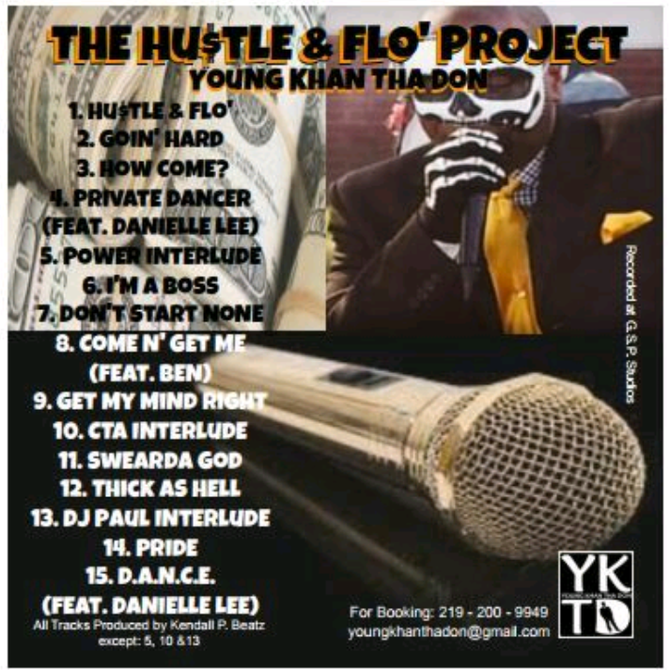 The Hustle & Flo Project 2018 - Music CD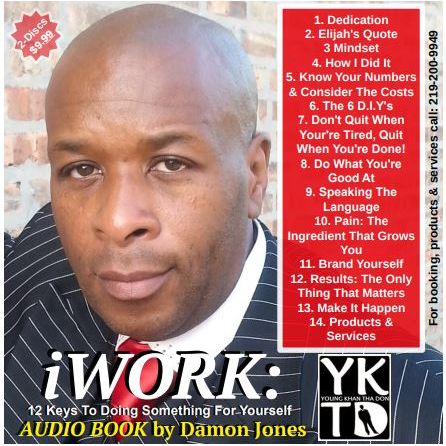 iWork Audio Book
Damon Jones, also known as Young Khan Tha Don, has more than 25 years of experience as a successful, independent rap artist, entrepreneur and "Motivational Spitter". His unconventional and unique communication style, has captivated, cultivated and inspired hundreds and thousands of youth across the country.
Mr. Jones' Associate Degree in Business Administration, along with Technical Certificates in Business and Accounting, compliments his ability to reach the youth, teach them positive self-imagery, encourage entrepreneurship, and life skills that help them to practice "self-leadership".
Young Khan or as he's affectionately called, "Brother D", due to his passion for helping and inspiring young people, can be seen in the movie "Tupac Resurrection"as personal security for the legendary and iconic rapper Tupac Shakur. Young Khan has also worked in different capacities with Snoop Dogg, Jay-Z, No-limit Records, DMX, Common, Kanye West and Tech N9ne to name a few.
Mr. Jones is currently serving as the Northwest Indiana representative for the powerful and influential group known as Hip-Hop DETOXX, a public health organization that deals specifically with at risk and problematic youth.
He believes that our youth are the best generation ever produced, they just need the 3 greatest of all gifts: right guidance, the knowledge of self and knowledge of the Creator. For it is only when we love ourselves that we can truly love others.
Young Khan understands that the youth have a special language that very few adults can speak to reach them, but he can, and that's why he's not just a motivational speaker, but he's a Motivational Spitter
.
www.youngkhanthadon.weebly.com
https://www.linkedin.com/in/damon-jones-24a750a0/
https://www.facebook.com/damon.jones.54584
219-200-9949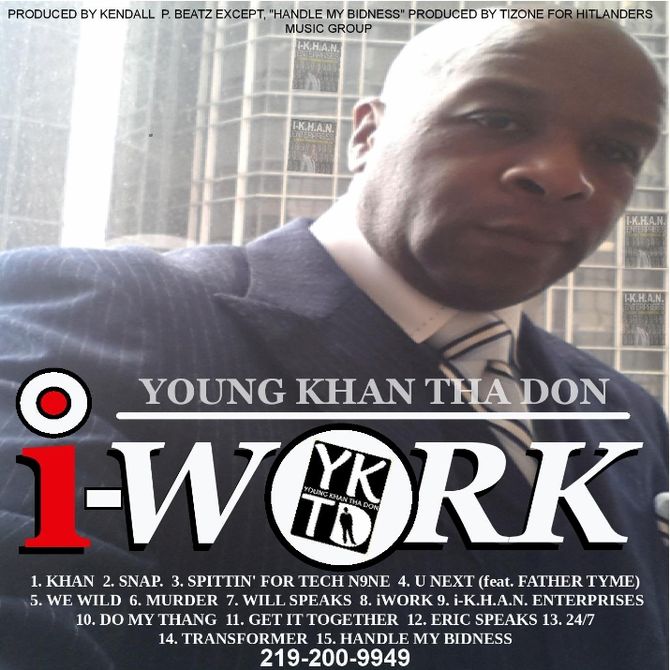 Young Khan Tha Don - iWORK Music CD 2017
All songs produced by KendallPBeatz except: *"Handle My Bidness", produced by Tizone for Hitlanders Music. Mixed & Mastered By: M80 of G.S.P. MUSIC & FILM
Track List (Some songs are only available with full CD Purchase):
 1. Khan!
2. Snap
3. Spittin for Tech N9ne (prelude)
4. U Next (feat. Father Tyme)
5. We Wild
6. Murder
7. Will Speaks (interlude)
8. iWORK
9. iK.H.A.N. Enterprises
10. Do My Thang
11. Get It Together
12. Eric Speaks (interlude)
13. 24/7
14. Transformer
15. *Handle My Bid Ness